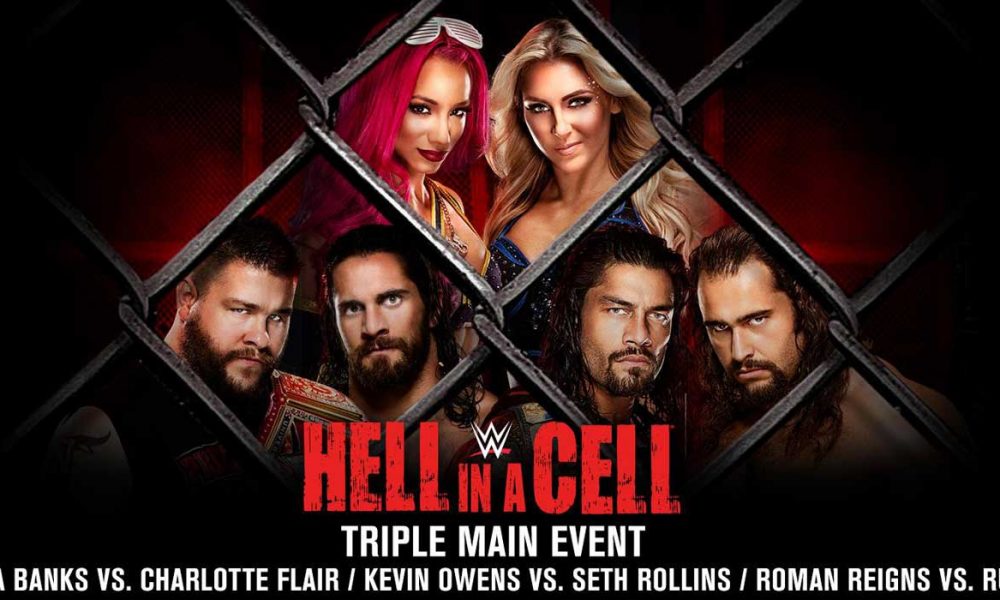 Emerging From Hell : The Running Diary WWE Hell In A Cell Review
Welcome to the running diary review of WWE Hell In A Cell. The Running Diary is a real time thoughts column profiling my raw emotions with a time stamp as the show went on. It's a column style used by many sports writers in history, and figured it would work well for this occasion. I'll also weigh in with next day thoughts.
Hell In A Cell was a history making PPV with Charlotte and Sasha Banks in the main event, emanating from Sasha's hometown. Boston; or"OUR F***KING CITY" as David Ortiz once referred to it. Let's get to the diary!

Roman Reigns © vs Rusev – WWE United States Championship Match
8:00- Roman vs Rusev is the 34th Hell In A Cell match ever. Makes me think, was CM Punk vs Ryback the worst? Lana is out wearing shiny silver like she's ready to be in a late 90's Puff Daddy video.
8:07 – Rusev and Roman Open up the show, Rusev focused, Reigns out in red to a mixed reaction that turns to boos when he lifts the US Title.
8:09 – The pink Hell In A Cell rope kind of throws me off, but whatever.
8:09 Cole lists Roman's accomplishments and he seems entirely over-qualified to be US Champion right now. If he never failed a drug test, he probably wouldn't be.
8:11 – Let's Go Rusev, Rusev sucks chants… only Roman Reigns could make this happen
8:13 – Rusev crashed into the cell, as Cole talks about careers being shortened. Shouldn't the promotion stop doing this match then? The wrestlers are their investments, right?
8:15 – Reigns grabbed a table and the crowd perked up to no avail, as Rusev attacks him to prevent the table from being used. The tricks begin.
8:16 – Roman closed WrestleMania and is opening Hell In A Cell, life comes at you fast. Rusev's arm is bleeding from the crash in the cage, faint let's go Roman chants, dwarfed by USA Chants.
8:18 – I feel like these guys looked at each other years ago in NXT/FCW and knew they would be opponents for the next decade. In traditional wrestling history, these two were made for each other. They would have drawn ALL the money in the 1980's.
8:20 Reigns hit with the stairs twice. Remember the stairs match? I try not to either.
8:22 – this has just been a slugfest, hoss division, not sure if they are holding back as to not take away from the other matches or not. I sure wish the brock Lesnar rules were in effect for this match
8:24 – Reigns swinging that kendo stick like David Ortiz, Rusev gets his turn, but reigns vest makes me think this doesn't hurt him at all and reigns escapes with a flying clothesline.
8:27 Nice sequence of reversals leading to a superman punch near fall, that is such a cool move.
8:30 – Rusev breaks out the Russian chain, after a flurry by roman, Rusev decides to whip em with the chain dueling Rusev chants again, Rusev pretty much kicking Roman's a** for the next 3 minutes.
8:33 Chain Accolade! Hell of a visual… would makefor a great submission, but doubt reigns quits here, fans hate the break, then pop for Samoan drop on steps.
8:34 Roman spears Rusev off steps. 1-2-3.
8:37 Reigns with a great showing, where does he go now? Chris Jericho? Owens to unify the championships?
NEXT DAY ANALYSIS: A hard-hitting heavyweight match. Both men left the match bigger stars than they entered it. Cell might not have been needed; these two would flourish in a Last Man Standing match. I think the crowd would have liked the Chain Accolade to be the finish, and there is a Super Reigns element there, but people have to realize…Roman Reigns usually shows up big on PPV. He has since his career started. (Match Rating ****)
8:40 Match recap for Raw, Owens and Rollins flashback, WWE trying to make us remember why we should care about this match, as it cuts to a laughing Kevin Owens for a promo. Owens minimized his loss smartly, 3 seconds out of 6 or 700. Owens says he will leave a scar on Rollins, and Seth won't look like a winner or a man.

Bayley vs Dana Brooke
8:42 – BAYLEY'S JACKET IS HARD!
8:43 Dana Brooke withnew ring gear, looks dope. Probably her best ever. I SEE FUNAKI! I heard he speaks perfect English.
8:45 – Poor Bayley, Dana didn't try to even hit the turnbuckles with her head or make it look real.
8:46 – It just hit me, Dana Brooke is the female Buff Bagwell, without being absolutely hilarious . Buff Bagwell's whole thing was his look, and flexing, baby oil and not really being the world's best wrestler. But he was the stuff, Dana isn't.
8:48 – Just waiting for Bayley to go back on offense, Dana beating on her in a variety of ways. But no one cares.
8:51 – Bayley drops Dana with the Bayley to Belly. 1-2-3. Not awful, but boring.
NEXT DAY ANALYSIS: Bayley should probably be the next challenger for the title, but I wonder where Nia Jax and Emmalina are. Dana Brooke is literally just another woman on the roster. Not really much to take from this match, except the right person won. (Match Rating **)
8:55 – Jericho interrupts Foley and Stephanie and pleads to be on the SS team. Puts Foley on the list several times. I just remembered he isn't in a match tonight. Feel like we'll see himlater though.

ENZO/CASS VS THE CLUB
8:58 – Enzo murdered a leopard with his bare hands for that outfit, my grandmother would fist fight him for it. She loves leopard print. Custom microphone's for Enzo and Cass reminds me of Mr. Kennedy. Enzo loves the big girls, and Cass seconds him. Cass, We've seen Carmella, you don't have to lie to kick it. Cass calls his middle finger the Larry Bird since they are in Boston, and threatens to go yard like he was Big Papi….The cheapest of pops follows.
9:00 – I know these guys are over; nothing from New York has gotten over in Boston that much since the Brooklyn Nets decided to ruin their future by trading the Celtics every first rounder until the approximately year 2073*.
9:06 – How did The Club just become dudes? That's right, hack comedy and getting beaten like a drum. They might be much better served on SmackDown where they could have been validated with some type of championship.
9:09 – Big Cass running wild, then booted from the ring as Enzo comes off the top rope with the cross body.
9:10 – Enzo is in trouble fast, and MAGIC KILLER, 1-2-3.

NEXT DAY ANALYSIS: No problem with Enzo and Cass losing. They have the unique trait to retain their status even in losing. For the long term health of The Club, they needed the win here.Still, they should find a way to get to Smackdown. Survivor Series will tell us a lot about what WWE plans to do with them. (Match Rating **)

KEVIN OWENS © VS SETH ROLLINS – WWE UNIVERSAL CHAMPIONSHIP MATCH
9:13 Up Next, The Universal title. An "oh shit the women are main-eventing" feeling just swept over the wrestling world.
9:14 – Video package of a feud way too short to really have to be in a Hell in a cell. Rollins has a chance here to have a star-making performance as a face. Is the feud not being the main event his fault?
9:16 – Monster Pop for Owens. He yells "Are you ready for the main event?!" this should be epic. Owens adds a great touch by walking away before entering the cell, before putting on the bravado.
9:18 Rollins in the throwback all black. 16 PPVs in a row he's been in a title match. That's a blistering statistic.
9:24 – Table set up on the outside, it looks so flimsy. Reverse senton by Owens. Working the back of Rollins…smart dissection.
9:30 – Owens kicking Rollins ass for 6 mins straight, cannonball into the cage, squashing Rollins…that hurt.
9:31 – No sell sequence to wake the crowd up, trading superkicks… livens the crowd up a ton. Owens setting up some type of contraption with another table. He's probably going through it.
9:34 – Owens hits the ref withfire extinguisher to usher in the bullshit, where the cage eventually gets open. Jericho sprints to the cage and locks the door, Owens kisses Jericho. I can't believe I just typed that. We're essentially in a handicap match now.
9:36 Stupid Idiot chants. I dread to think of what would happen if two guys were whooping Reigns in a cell. Hint… lots of cheering.
9:38 – Best move of the night. After Rollins shows the herculean strength of CFJ**, he recovers Owens from a Styles Clash position, and powerbombs him through the diagonal table over the top rope. The crowd and I lose it. Frog splash, Jericho pulls out the ref at 2. More traditional WWE bulls*** in a Hell In A Cell match. Rollins stops to kick Jericho's ass and Owens recovers for a near fall. Good false finish.
9:42 Jericho and Owens #BEATEMDOWN, leading to a finish with powerbomb through two chairs. Kind of a shock ending. Rollins HAS to leave the title picture now. Didn't seem like the crowd liked the ending. Rollins looked like a god at points, but the interference took something out of this match. Good, could have been more. Codebreaker after the match, possibly leading to Jericho vs Rollins.

NEXT DAY ANALYSIS: Well, like I said before, Rollins probably should leave the title picture for the moment and deal with hit squads sent from Triple H until The Game shows up, probably in January. This matchthrived in-spite of the booking. Kevin Owens and Chris Jericho aren't going anywhere soon. (Match Rating ****1/4)
Brian Kendrick vs TJ Perkins © – WWE Cruiserweight Title Match
9:51 – Here comes the most absurd storyline going today. Please lose this fake match to me; it's my last chance even though absolutely no one has threatened him with anything. I'd rather watch anything but this feud. What if Perkins laid down like Hogan vs Sting in 99, Or Nash vs Hogan in 99, or Hogan vs Jarrett in 2000? I'd break into knee-slapping laughter.
9:58 – Kendrick tapes Perkins to the ropes to take advantage. That would be great if this was a Last Man Standing match. The crowd is about lively as the oracle arena after game 7 of the NBA finals
10:00 – "GET A FUCKING HAIRCUT HIPPIE, THE 90S ARE OVER" – Random fan.
10:02 – If Kendrick wins without Perkins "letting" him, does that mean Kendrick shot on him? Never mind…
10:04 – Here comes the "story" fake knee injury, the crowd is groaning. The only person in the building fooled is TJ Perkins.
10:05 – Brian Kendrick wins the title after faking out Perkins. and the crowd is overcome with apathy. But did he "let Kendrick win the title"?
10:06 – This division nearly died on TJ Perkins watch, not sure Brian Kendrick will be much better, but he'll have plenty of challengers. Let's go Cedric.
NEXT DAY ANALYSIS: TJ Perkins takes his place on the Mt. Rushmore of dumb babyfaces, along with Sting and Becky Lynch. Who is #4? 21 years ago this month, Ric Flair suckered in Sting at Halloween Havoc 95' and this was worse. My co-host of @OneNationRadio, James Boyd described TJ Perkins as "Cole from Martin dumb." That's dumb. It's not that the moves were god awful, but this is so far away from meaning anything the disconnect stands.
(Match Rating *1/2 Stars)

The New Day © vs Cesaro & Sheamus – RAW TAG TEAM TITLE MATCH
10:13 – The New Day is over in Boston. It wasn't always this easy for 3 Black guys in Boston, they once shat on Bill Russell's bed. BILL GODDAMN RUSSELL WHO WON THE CITY 11 NBA CHAMPIONSHIPS!
Kofi's hometown.Crowd chants 69 for Gronk in light of his 69th career TD and Kofi's shoes. Big E has had that haircut so long; it doesn't even look ridiculous anymore. He has to walk around like that. Sheamus smokes mids sign in the back.
List of Brave Haircuts by Wrestlers
-Big E
-Hawk from the Road Warriors
-King Mabel
-Shawn Michaels Mullet in the Mid 90's.
10:20 – 434 days for The New Day, Cole mentions them chasing history. Woods is wrestling, maybe a chance for New Day to lose. I wonder what it's like when Woods shows up to the building and they say he's wrestling that night?
10:22 Sheamus and Cesaro had such an awesome match 7, and it's essentially ancient history now. The feud was at its hottest and WWE wanted to run completely in the other direction. They'll have to answer for that one day. It would have made all the sense to end their feud inside the Hell in a Cell, oh well.
10:24 Sheamus can't even get love in Boston where there are more Irish folks and pubs than anywhere. Side note, how awesome would Sheamus be in New Japan? Sheamus vs Ishii? Sheamus vs Shibata?
10:30 Sheamus dives on all 3 new day members. Did people just cheer Sheamus? SHAME!!
10:31 – Accidental DQ The New Day. Cheap finish to extend until the record is broken. Woods taps after the DQ. The door is opening for the eventual New Day turn.

NEXT DAY ANALYSIS: And we keep rolling towards Demolitions record. Good action, but this was a stop-gap finish. After New Day reaches their goal, why keep them as faces? It's time to heat up a successor. I see them relying on more tactics to extend their run and eventually dropping the titles at WrestleMania next year. Another team the Survivor Series match will tell us a lot about. (Match Rating **3/4)
10:32 – Brock/Goldberg video package. Cool.
SASHA BANKS © VS CHARLOTTE – RAW WOMENS CHAMPIONSHIP MATCH
10:35 – We're here. We've seen Banks and Charlotte in NXT, and in singles matches, but they have a blank canvas to paint a masterpiece. Foley is attempting to scare the women in the video package. Didn't work. Is this the biggest women's match we've ever seen? In a word, yes.
10:38 – CHARLOTTE CARRIED TO THE RING BY GLADIATORS LIKE A QUEEN….
SITTING ON A LITERAL THRONE. New gear, and an incredible robe. This feels like a
Grand occasion. That's a WrestleMania Entrance. Cole brings up Charlottes PPV stats.
10:40 – We Want Sasha chants as Charlotte gazes around, big reception for The Boss, who shows up in her escalade with a nod to NXT Brooklyn from 2015. Sasha stands on the truck with the title held high wearing Camo gear, the idea being this is war. IT'S ON! These were the right two women to main event a PPV. It's mentioned Sasha was in the first women's Ironman Match as well as the first Hell In A Cell match.
10:43 – The cell is lowering, and both women look like they are overcome with emotion, and Charlotte jumps her before the cell lowered. AND THEY ARE OUTSIDE THE CELL. Here comes the pain!
10:46 Sasha immediately strips an announce table, and Charlotte starts climbing up. CHARLOTTE POWERBOMBS SASHA THROUGH THE TABLE AND BREAKS HER IN HALF, after jumping down. Sasha is in immediate danger.
10:48 – Charlotte stalking Sasha. Refs try to stop Sasha from fighting, and she collapses while walking around the cell, while Charlotte gets held back. Charlotte is talking all the trash in the background and demanding the championship via forfeit.
10:52 SASHA attacks the medics and hops in the cage…HOLD UP WAIT A MINUTE…YALL THOUGHT I WAS FINISHED???***
10:56 – Charlotte and Sasha were made for each other. Long Charlotte heat segment.
11:00 – Sasha uses the drop toe hold on the chair, that is perhaps the best chair move in wrestling, made famous by Raven.
11:02 – Sasha Banks turns to spider woman by jumping on the cell and hitting Charlotte with the 2 knees. This match is a war. Sasha yells, "That's why I'm the boss!"
11:03 – 3 amigos and a frog splash! EDDIE LIVES!
11:06 – Watching the brutality of these two women, feels so much different than any other Hell In A Cell match. While there hasn't been blood, the sense of hatred is coming through the screen.
11:08 – Charlotte impaled Sasha with a table, pinning her against the cage. They don't givea f*** out here man.
11:11 WE'RE WATCHING A CLASSIC. Graves puts over the exhaustion of both competitors.
11:15 Sasha's back gives out while attempting a powerbomb. Shocking finish with the 2 throws on the table followed by Natural Selection. Totally brutal. Charlotte is like a woman Undertaker inside the cell. Best Hell In A Cell match in ages.
NEXT DAY ANALYSIS: After a second viewing, I still think this is a classic match, It felt more dangerous than the other two cell matches combined. Some of it felt unplanned. Sasha has a way of taking a beating that is Shawn Michaels-esque. Meaning, she looks like her body is ready to break on every slam. She's a tough a woman. Charlotte continues her PPV dominance as these two trade the title like The Rock and Mankind in 1999. Expect Charlotte and Sasha to each win the Women's title over 10 times before they are finished. For those wanting more variance in the title picture right now, you may not get your wish unless Sasha is written off TV. Otherwise, I'm ready to see them in a TLC match. Was it the right decision to defeat Sasha again so fast? I'm not sure, but this is NOT the final chapter between them. As Charlotte mentioned on Ride Along with Ric Flair, Sasha is her Steamboat. WWE seems to want to push this Charlotte PPV streak thing, and they figure the best way to keep it interesting is to trade the title. It positions them as equals and elevates the title in the process. (Rich's Match Rating *****)
What a show. Hope you guys enjoyed the live review, as well as the next day thoughts. Hell In A Cell 2016 had a ton going against it in the lead-up, but I thought they delivered a show that makes Raw look very strong going into Survivor Series. They need to utilize more of their weapons though. More meaningful cruiserweight action, pull Sami Zayn and Neville out of hiding and start figuring out the new feuds because all the top ones are a little long in the tooth.
Footnotes:—————————————————————————————————————
* 2019, but who's counting.
** Crossfit Jesus.
*** Meek Mill's intro to his first album, skip to 1:35
On this week's episode of One Nation Radio, Rich and James discuss: Bray Wyatt. (0:00) Terry Funk. (14:23) Cash Wheeler. (33:17) Powered by RedCircle
read more
<a class="twitter-timeline" href="https://twitter.com/SocialSuplex" data-widget-id="527661022560018433">Tweets by @SocialSuplex</a> <script>!function(d,s,id){var js,fjs=d.getElementsByTagName(s)[0],p=/^http:/.test(d.location)?'http':'https';if(!d.getElementById(id)){js=d.createElement(s);js.id=id;js.src=p+"://platform.twitter.com/widgets.js";fjs.parentNode.insertBefore(js,fjs);}}(document,"script","twitter-wjs");</script>