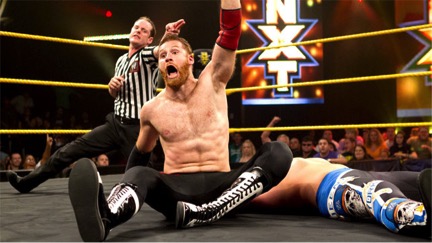 Sami Zayn: WWE's Next Underdog Superstar
With Daniel Bryan's retirement having finally set in, WWE is well on their way to creating the next underdog for the fans to get behind. That underdog comes in the form of recent NXT graduate and independent scene star-Sami Zayn.
Sami Zayn first burst on to the main roster scene when he responded to one of John Cena's United States Championship Open Challenges. Zayn was given an almighty response from his home crowd as he was introduced by Bret Hart.
Many believed this was going to be Zayn's promotion to the main roster however during his entrance Zayn injured his shoulder and upon completing the match was sidelined for around six months requiring surgery to repair the damage which had been done.
A longtime feud first beginning in NXT between Zayn and Kevin Owens, set up the perfect heel/face scenario. The storyline had kicked off with Owens turning on his former friend immediately after he had won his first NXT Championship. The bitterness on Owens behalf created immense sympathy for Zayn who eventually lost his title to Kevin Owens just before becoming injured.
For months the jealousy was brewing between the two men and with Kevin Owens' promotion to the main roster, the WWE Universe was just waiting for Zayn to make his return. This return came at the Royal Rumble with Owens visibly shocked as his former friend made his surprise entrance to the ring. Sami Zayn was able to overcome Owens as he tossed him over the top rope eliminating him from the rumble and essentially reigniting their war.
With Owens having won the Intercontinental Championship from Dean Ambrose, Zayn had revenge on his mind so entered himself in the Intercontinental Title picture and found himself a place at WrestleMania 32 in the ladder match for Owen's title. Neither man was successful in their bid for the title which made the tension between the two Superstars heat up.
This past Monday Night on RAW, Shane McMahon was once again in control, he demanded Zayn get another chance at the WWE World Heavyweight Championship having been taken out of the Number One Contendership Match during the previous week's RAW, as he was subjected to a brutal beating at the hands of Kevin Owens.
Sami Zayn was placed in a singles match against AJ Styles if Zayn was to beat Styles he would be entered into a Triple Threat match featuring AJ Styles and Roman Reigns at Payback 2016 for the World Heavyweight Championship. Styles was able to overcome Zayn but a backstage segment showing Shane McMahon and Styles congratulating Zayn goes to show to sympathy and support they are creating for the "underdog from the underground."
So is Sami Zayn the next "Daniel Bryan"? Leave a comment below or on my Twitter page @Sherron__Watson
On this week's episode of One Nation Radio, Rich and James discuss: Raw results. (3:11) Kenny Omega vs El Hijo del Vikingo. (9:26) Mannie Fresh. (24:21) Charlotte vs Rhea. (52:46) Goldberg. (1:05:15) AEW Dynamite. (1:13:38) Stardom 3/10 Korakuen Hall show and 3/11...
read more
<a class="twitter-timeline" href="https://twitter.com/SocialSuplex" data-widget-id="527661022560018433">Tweets by @SocialSuplex</a> <script>!function(d,s,id){var js,fjs=d.getElementsByTagName(s)[0],p=/^http:/.test(d.location)?'http':'https';if(!d.getElementById(id)){js=d.createElement(s);js.id=id;js.src=p+"://platform.twitter.com/widgets.js";fjs.parentNode.insertBefore(js,fjs);}}(document,"script","twitter-wjs");</script>