Finally, the interview with Kenny Omega on Swerve City's podcast was released. I was fortunate to be asked by Swerve to join this interview, and it was my mindset to make the most of it. For years now Swerve, who I consider a great friend at this point, and I have conversed about Pro Wrestling for countless hours, and he knew all too well who my favorite wrestler ever was.
It's not always easy talking to or meeting someone you admire. Someone that inspires you. With Kobe Bryant's untimely passing, Kenny Omega has moved into the spot of being my favorite athlete. Like many others, through his performances in the ring, I find ways to approach my challenges in life, and draw inspiration. Does this sound corny? Really I don't care. I'd rather be transparent while I'm here than leave people wondering what things mean to me.
When I got the message from Swerve asking me to do it, it was a real rise-to-the-occasion moment. "Am I a fraud or am I going to showcase the media skills, and knowledge of the pro wrestling landscape I've been honing on One Nation Radio for over a decade?" "But how am I going to sit there and not act like a complete superfan?"
Luckily I had just enough sense to keep it in gear, and the feedback surrounding my questions has been universally positive, so for that I am thankful.
Kenny's last few years gave me plenty of options to choose from as far as asking questions. I wasn't particularly interested in asking about his suspension and reaction to CM Punk following the heavily covered Brawl Out, because I didn't feel that was my interview to have. Nor did I want to create a negative moment for Swerve or Monteasy. I had no interest in asking about what could possibly be one of his lowest moments.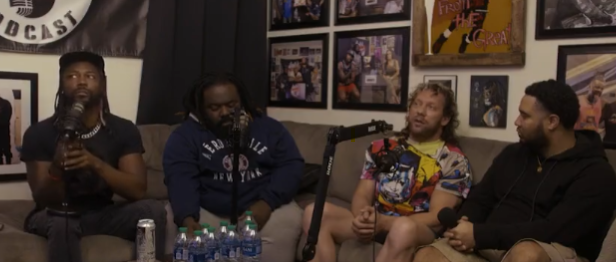 First off, I'm a hardcore wrestling fan and someone who spends hours per week debating about who is the best in the past present, and future of pro wrestling. I wanted to know his mindset behind his matches, his storytelling strategy, and being in the thick of competing against Kazuchika Okada, Hiroshi Tanahashi, Tetsuya Naito, Kota Ibushi, and Tomohiro Ishii. Not only in the ring, but for supremacy of that fantastic era of Pro Wrestling. Kenny seemed to be cognizant of his place amongst these greats, and simultaneously thankful he was ever in that position at all. I wanted to reach for deep-cut things such as mentioning a match he had with Katsuhiko Nakajima just to see what he'd say.
I definitely was interested in asking about him being an executive in a wrestling organization. The debate of the title of "EVP" has been going on since 2019 in regards to AEW, and rather than asking for a step-by-step list of what he's done, I was more interested in asking about the evolution of his role, and seeing where he took us.
When I asked if it was fulfilling for him, this was among the most important questions that I knew his fans would want to pay attention to. This was recorded Feb 9th but became an even better question by the time the interview was released. Even at that moment when the question is directed at him, Kenny's joy came from putting others in a position to succeed, and make money to take care of their families.
I had no idea we'd have 2 hours with him. It wasn't necessarily set before then, so I treated this like a once-in-a-lifetime chance to lob up the things I had in mind. There's a point where Swerve wanted to move the convo away from Wrestling, and I knew I had to take a shot about asking Kenny about a stream where he was on where he was passionately speaking in defense of Joshi performers coming to America. I intentionally put it on the table in the manner I did to attempt to open up a real discussion that I hoped would live longer than the life of the podcast.
When I asked about the vile racism and ignorance they were subject to, it was bigger for me than asking about him facing Will Osperay in the dome. Kenny has been intrinsically linked with the Joshi wrestlers that have come to AEW, not to mention his own personal inspiration he gathered from them through low points in his career.
For me, it was the highlight of the show. Kenny spoke thoughtfully and intentionally as he shared a terribly sad account from Riho who wondered why people wanted her to die. Or why do they say she's dressed like a schoolgirl? If we can affect how these wrestlers are treated in a small way then that question was worth it to me.
I was comfortable around my friends Monteasy and Swerve Strickland, and I got to fire off nearly all of the questions I wanted at my favorite wrestler of all time, with respect to the format of their podcast. The second half displayed a more fun and humorous side, as we ran through movies, video game horror stories, AEW Fight Forever updates and we even got into hip hop which I was totally blindsided by. My rap/collaborative writing services are available should Kenny need them. I can't remember anyone getting Kenny Omega on record about hip-hop at all.
I'm very thankful for Swerve and Monteasy for letting me join the show, and very thankful to all the people who've reached out and let me know they enjoyed what I brought to the interview. This was all very cool, and Kenny was incredibly easy to speak with. So many times I was like how did I end up here? Shoutout to Floyd Johnson. Eventually, I'll have to stop asking myself that one day.
Rich Latta Is A Senior Contributor To Social Suplex, a podcaster for One Nation Radio, And Hip Hop Artist who just dropped an album called Dream Machine. Throw him whatever you want to listen to it.