This article is about notable events in the G1, where the dust settled, and the seeds for new storylines that were planted. Below are just four of the thoughts I have post G1 and theories towards potential booking and storylines I expect going forward.
KENTA: The Heat of a Thousand Suns
I've said before that I think New Japan has the best long term booking but could they have predicted the fan's rejection of KENTA so accurately that they knew before the G1 started that they would align him with the Bullet Club?
It's a great fit for the faction which is trying to eliminate its connection with the Elite and get back to the heelish outsider aesthetics. KENTA betrayed Ishii in the match and later the man who brought him back to New Japan, Shibata.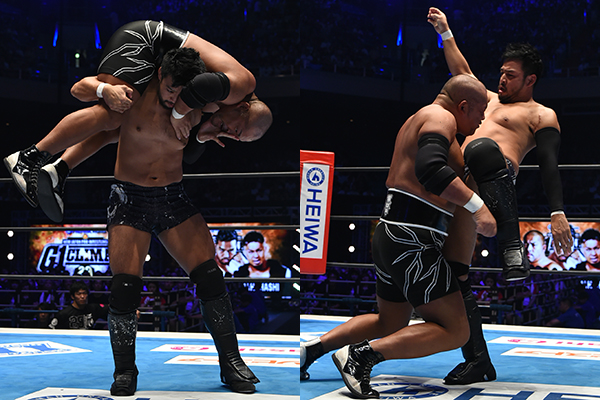 Knowing that Shibata's injuries put him into retirement it was difficult to watch him perform any athletics or take any bumps. Shibata threw himself at KENTA and the Bullet Club with reckless abandon but eventually the numbers caught up to him. The hate KENTA received when he sat in Shibata's cross-legged pose upon his chest throwing up the too sweet was possibly the most heat he received the whole tournament.
Now with KENTA allied with Jay White and the Bullet Club, I expect big plans for this faction as the top heels in New Japan. There was a time that Bullet Club's future was questioned when the Elite split from the group. They were criticized for their lack of star power but they've healed up and recruited very well since then.
Jeff Cobb: How Not to Book a Powerhouse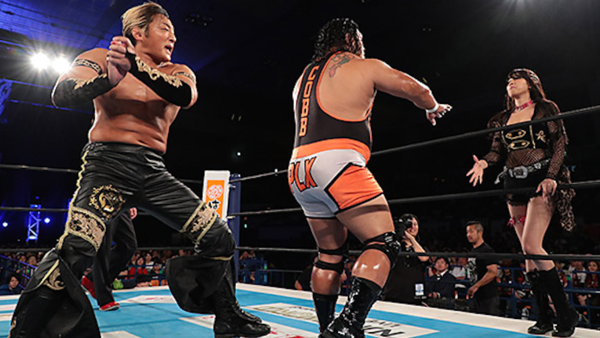 Jeff Cobb disappointed some people with his performance in the G1 but this is one of the few scenarios where I believe it was bad booking on New Japan's part and less to do with his performance.
He was the monster Matanza in Lucha Underground and in ROH he is a powerhouse suplex machine. However, in the G1 he took a role that could best be described as an underdog Michael Elgin. Only how much sense is there with a powerhouse being an underdog or mid to low card wrestler?
When you're doing impressive feats of strength and showcasing your strength it doesn't make sense to perform as poorly as he did. What is the point of these suplexes and slams if they're not putting people down for the count?
You don't necessarily need to have them stomp everyone in squash matches but I would compare it to a great ROH match that's criticized for too many kick outs of big moves. After a while, the credibility of the big moves is lost when they have no effect. When a powerhouse suplex machine is not getting the wins then those slams have as little impact as they do results.
Jay White: Just Breathe
It doesn't seem like Jay White is getting as much credit as he deserves for being adaptable and changing as needed. If you've ever played a wrestling game to the point where you learn all the little tricks and mechanics you can abuse you can better understand Jay.
Maybe a better example would be playing against another person in a fighting game that consistently abuses a game mechanic to rack up wins in boring and cheap ways. Jay White abuses weak mechanics like blind refs, brawling outside the ring, a cheating manager, a dominant heel faction, and scouting to circumvent move sequences and setups of other wrestlers.
It started when he finally dropped the belt to Okada at Wrestle Kingdom. Okada had wrist control at the end and Jay took a page out of Kenny Omega's book and simply collapsed and sandbagged to prevent him from landing a Rainmaker clothesline.
The difference is that Kenny was simply exhausted when he fell while Jay was purposely falling down to avoid the rainmaker setup. Even though Okada finally exposed him for not being as good as the Rainmaker, Jay would keep employing this additional tactic in his matches to not only garner heat from fans for preventing big spots but protecting himself from being taken down so easily.
He started this G1 off with a whimper. Not only losing to Goto and Ishii but also Yano. It seemed like every Chaos member was getting their long awaiting revenge on him for last years betrayal. It felt like he lost a step and fell so far from where he once was. But then the storyline began of him having to refocus and form a plan with Gedo to ensure they won every match going forward. Of course, this did mean a lot of cheating but we also saw a lot of mind games.
This was probably showcased the most in his match with Jon Moxley. He got into his head pissing him off and making him chase Jay until he made mistakes that he was able to capitalize on.
We also saw more high impact moves since the usual heel tactics weren't working on their own. We saw the Kiwi Crusher, a Cross-Arm Bloody Sunday, high angle Uranages, and even a reverse figure four leg lock from time to time. Simple cheating wasn't enough. He had to evolve and put forth some meaningful offense to wear his opponents down or to capitalize when the Gedo interference and low blows weren't enough.
Tetsuya Naito: The Problem with Tranquility
I've felt before that Naito has been right where he should be at the Intercontinental Belt level in New Japan and I feel justified after this G1. It seemed as though he was coasting off his reputation, popularity, and overall placement on the card. His victories didn't feel earned and his loses felt cheap in the case of Taichi or underwhelming in the case of Moxley.
While there is an argument that Taichi may have come out looking better it's hard to make the same case for Moxley. It will be underwhelming and unoriginal if this is just set up for a Wrestle Kingdom match between the two as they did that last year between him and Jericho.
I was surprised in his match with Jay White. He had an incredible game plan. His Tranquilo attitude was getting to him. Jay was getting frustrated and chasing him out of anger. Multiple times Naito got the better of him when he made mistakes.
The match started with Jay getting in and out of the ring to try and get Naito to chase him but instead, Naito bounced off the ropes and did his Tranquillo pose in the middle of the ring. Then Naito rolled out of the ring, pulling a page out of Jay's book, and then when he seemingly rolled back in he immediately rolled out of the very same corner.
It felt like Naito had his number but in the end, he fell short again. First to Taichi, then to Mox, and now to Jay. LIJ fans have been pining for him to obtain the Heavyweight title for years now. The question is being asked if New Japan is going to miss the boat with him. Will he end up getting too banged up and injured to have a proper run by the time he finally gets his chance?
It is really hard to predict the upcoming storyline they have for Naito. It will all revolve around Ibushi and if he is successful in beating Okada for the belt. The storyline is already there for him to challenge Ibushi. But the question will be then if Naito's challenge will be to legitimize Ibushi's run or if it's going to be his time to shine as the heavyweight champion of New Japan.